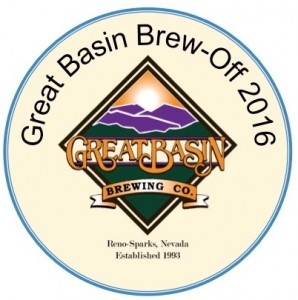 Welcome to the Great Basin Brew-Off 2016 (Link to registration site here and at the bottom of page), a BJCP sanctioned competition, featuring Belgian Ales (except sours), Fruit Beers, Spiced Beers, and Alternative Fermentables, listed as follows (but don't write them down, the registration site has all the information):
BJCP2015 substyles: 24A (Witbier), 24B (Belgian Pale Ale), 24C (Biere de Garde), 25A (Belgian Blond Ale), 25B (Saison), 25C (Belgian Golden Strong Ale), 26A (Trappist Single), 26B (Belgian Dubbel), 26C (Belgian Tripel), 26D (Belgian Dark Strong Ale), 29A (Fruit Beer), 29B (Fruit and Spice Beer), 29C (Specialty Fruit Beer), 30A (Spice/Herb/Vegetable Beer), 30B (Autumn Seasonal Beer), 30C (Winter Seasonal Beer), 31A (Alternative Grain Beer), 31B (Alternative Sugar Beer), and special category 21B (Belgian IPA) (no other IPA's allowed).
Rules:  3 bottles per entry (except for Bombers, 2 will do), no markings on bottles (or anything that gives away your identity).  Entries must be brewed and fermented on amateur equipment (except in the rare instance of a home brewer brewing on premise (BOP).  Only 1 entry per SUB-category allowed (e.g., a 29A and 29B are allowed, but not two 29A's).  No more than 6 entries allowed per brewer.  $7 per entry, $6 after the first two, WZZ members (paid up in dues) pay $5 per entry (see Rob for club discount code).
Our Sponsors
Our sponsors are essential in making this competition what it is. Please give them your support.
The Washoe Zephyr Zymurgists, the competiton organizers, whose dues provide for this enabling website, without which this contest would not be possible.
The Reno Homebrewer
2335 Dickerson Rd
Reno, 89503
http://www.renohomebrewer.com
775-329-2537
Nevada's oldest and most respected homebrew supplier since 1986.
Beer, Wine, Mead, Soda, Cheese, etc. The inspiration and sustaining force behind the Washoe Zephyr Zymurgists. Sponsoring a $100 gift certificate to the Best-of-Show winner. Gifted with wisdom, and gladly imparting that to all brewers. Providing entry and volunteer guidance, and a drop-off and shipping location.
Great Basin Brewing Co.
775-355-7711
http://www.greatbasinbrewingco.com
The original craft brewer in Nevada, sponsoring a GABF pro-am competition entry to the Best-of-Show winner. Hosting competition judging and providing the venue for the Awards Party.
IMBIB Custom Brews
785 E. 2nd St.
Reno, 89509
775-470-5996
http://www.imbibreno.com
A brewery and taproom recently bootstrapped by local homebrewers (with a storied legacy in this competition), whose reputation for outstanding and out-of-the-ordinary brews is booming, serving as a competition judging location.
BrewChatter
1275 Kleppe Ln
Sparks, 89431
http://www.brewchatter.com
775-358-0477
A second local homebrew shop, located on the East side of town, started by local home brewers. Guiding brewers through the entry and volunteering processes, and serving as a drop-off and shipping location.
Awards Party:  The awards announcements and celebrations will be held May 7th, Saturday, 4 pm, at Great Basin Brewing Co., 846 Victorian Ave., Sparks, NV 89431.  Food and beverages will be no-host.
Click here to the registration site.
Registration is open now, but please do not drop-off or ship entries until after April 1st.  Entries must be received and paid for by April 27th.